Fashion Police: Do I have to Wear a Sheet?
16 May, 2016
John Flint
Iran Travel Advice
1731 Views
30 Shares
3 Comments
Are you wondering: 'Do I have to wear a sheet to Iran?' If you mean a niqab, burka, or chador? Then no.
The below indicates the different types of dress worn by Muslim women. The burqa and niqab, which are banned in some European countries, are generally found in regions influenced by Wahhabi branches of Sunni Islam around Saudi Arabia. The Burqa on the other hand is most common in Taliban controlled regions of Afghanistan, in addition to minority areas of Saudi Arabia.
Iranian girls often wear basic hijab (hair scarf) in combination with a manteau (loose overcoat). However women going to the mosque often wear a 'chador' (loose sheet), as do conservative women around unrelated men. However this chador is a cultural aspect rather than a social norm or Iran dress code. The public sector in addition to conservative families tend to wear black clothes out, which conveniently simplifies the wardrobe. However women in the private sector often wear colorful clothes with a poorly worn head scarf. Like teachers enforcing a school dress code, so too do the fashion police of Iran. But as you would expect, rules always open for interpretation.
Foreign women are only expected to wear hijab in public places in Iran. However chadors are available to borrow at most mosque entrances, that's if you choose to go inside. Otherwise foreign women will very rarely encounter the 'fashion police', and if you do, more often than not you'll just receive a friendly reminder to cover up more.
Still doubting what to wear? The images below indicate some different clothes you could try. Just try to cover your manto over any tight clothes! Here are more detailed tips for wearing manto's and headscarves in Iran.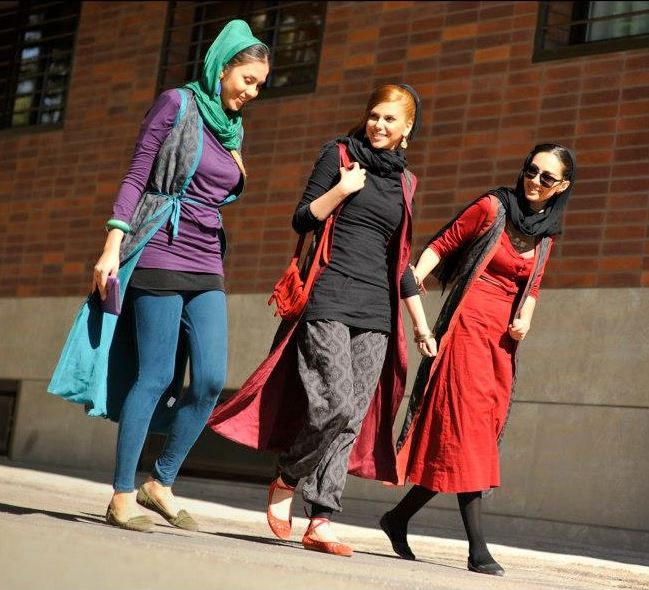 About Author